Yosemite Valley has always held fascination for Eric Hanson of Blueplanet VR and Greg Downing of Hyperacuity. Initially, they used Yosemite as a test-bed subject for developing our early gigapixel imaging and terrain integration VFX techniques of large landscapes. That early work led to the 2008 Yosemite Extreme Imaging Project, where they orchestrated 70 photographers to document the sixteen miles of valley walls for NPS Geologist Greg Stock, shooting 10,000 images in 45 minutes.  The unprecedented resolution and freely accessible online publishing of that work provided useful reference for the climbing community, academic research, and Yosemite search and rescue (YOSAR).
In 2015, after integration of the gigapixel imaging with a large-scale laser scanning effort from Battista Matasci of the University of Lausanne, xRez Studio had the opportunity to contribute to the NY Times on a webGL interactive visualization of Tommy Caldwell and Kevin Jorgeson's free climbing ascent of the "Dawn Wall". The Dawn Wall on Yosemite National Park's El Capitan is considered the most difficult rock climb in the world. The NY Times interactive feature on it can be explored in full screen. In addition to the interactive piece the New York Times has had very good coverage of the historic event, you can read more on it here and here.
Yosemitebigwall.com's Erik Sloan, a longtime valley xRez collaborator, author, and holder of over one hundred El Cap climbs, has long utilized our images to lay routes over in his climbing guidebooks. In 2016, we hatched a plan to shoot El Cap in record-setting 228,000 pixel resolutionusing an 800mm Canon L prime with a robotic Rodeon head. Early one morning, we followed Erik and Roger Putnam , shooting 2,000 images of constant moves up the Nose route, with Erik and Roger finishing in 7 hours. The following day, we then shot the entire width of El Cap with 2,000 images to comprise the base image. A massive post-production stitching job then began with uber-intern Max Good, taking over 2 years of off-hours to finalize. Boulder, Colo Sender Films then utilized sections of the image to help describe the Dawn Wall routes in their film, "The Dawn Wall". Meanwhile, Erik worked diligently tracing routes over the extremely high resolution image.  Finally, the full image was completed, as shown interactively below, at only one third of the full resolution. 60″ wide display prints were then produced and are currently sold on Yosemitebigwall.com.
Dbl-click to view the panorama fullscreen (recommended):
Loading...
Detail crop, click twice to view: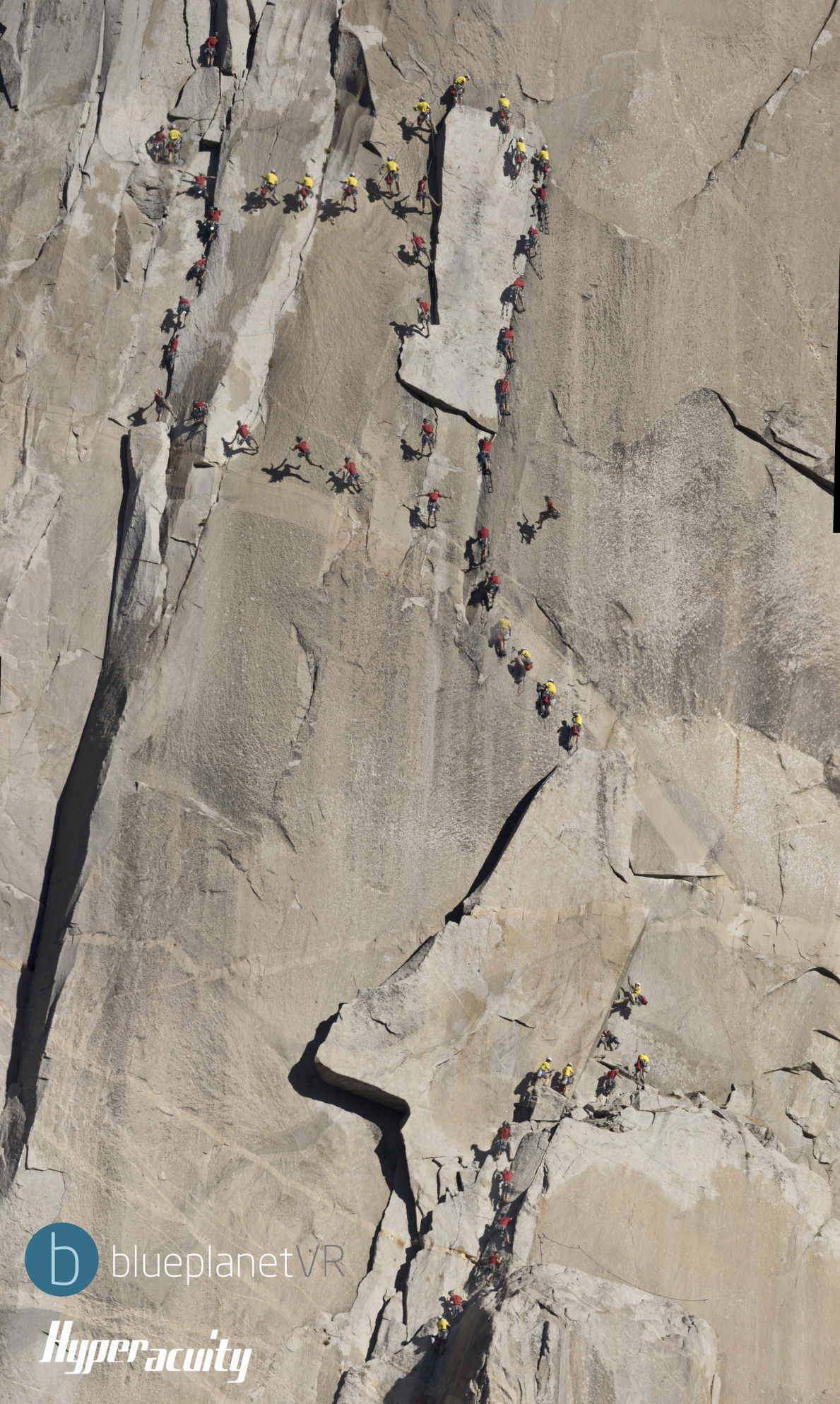 3D Interactive web piece, click to launch: