The Dawn Wall, New York Times Interactive

xRez recently had opportunity to contribute to the NY Times on a webGL interactive visualization of Tommy Caldwell and Kevin Jorgeson's free climbing ascent of the "Dawn Wall". The Dawn Wall on Yosemite National Park's El Capitan is considered the most difficult rock climb in the world. The new NY Times interactive can be explored in full screen. In addition to the interactive piece the New York Times has had very good coverage of the event, you can read more about it here and here. Yosemite has been a favorite shooting location for xRez for since shooting the worlds largest completely spherical gigapixel image there in 2005. That was followed up with the "Yosemite Extreme Panoramic Imaging Project" in 2008, creating the most complete gigapixel photo documentation of Yosemite Valley to date. This interactive webGL piece by skilled New York Times graphic designers is a foreshadowing of what we have in the works for an upcoming project. The 3d scan was done by Battista Matasci of the University of Lausanne, coupled with a small section of the record El Cap image we captured at nearly 300k across in October 2013 with top shelf climbers Erik Sloan and Roger Putnam. We are in progress of assembling that work, and will post when completed.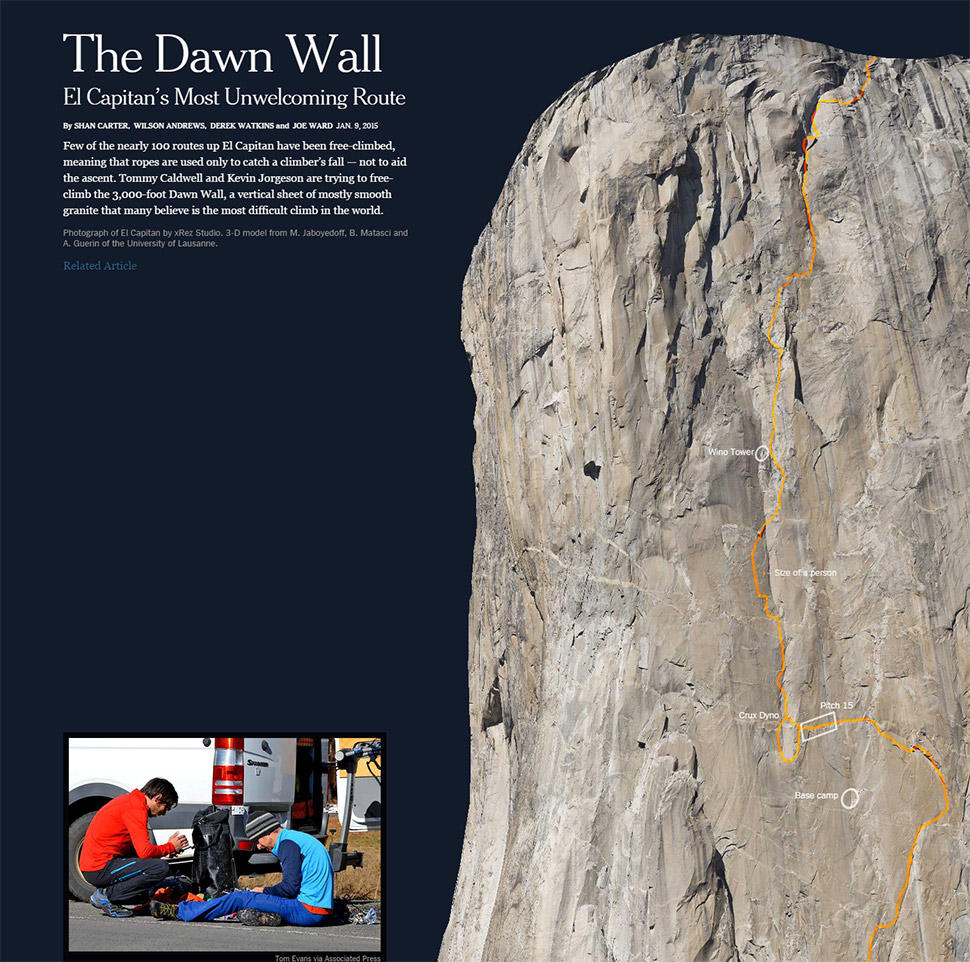 This entry was posted on Sunday, January 11th, 2015 at 3:53 pm and is filed under
Case Studies
,
National Parks
. You can follow any responses to this entry through the
RSS 2.0
feed. Responses are currently closed, but you can
trackback
from your own site.