Autodesk Photogrammetry Capture for Maya 2015 Launch

In October 2013, xRez Studio was contracted by Autodesk to capture spectacular landscape features of our choosing to be used for content promoting an upcoming launch of Maya 2015. We suggested 2 primary sites, the sand tufa formations at Mono Lake in the Eastern Sierra, and the wind-carved sandstone formations at Valley of Fire in Nevada. The features were chosen for their highly rich detail and topology, science fiction aesthetics, and the ability to manipulate scale in order to portray much larger environments. We were also tasked with developing a thorough workflow utilizing image-based HDR photogrammetry with the ReCap suite, integrate supplemental laser Faro scans, perform geometry retopo and texturing in Mudbox, and ultimately animate in Maya. We developed the following short "Outlands" as an internal test, but many of the assets will be used in Autodesk content entitled "Hyperspace Madness". We were graced with a spectacular and rare event of the Sierra lenticular wave setting off an amazing sunset event over a very long span across the range, captured in high resolution spherical panoramas, infrared and fisheye HDR timelapse. We were quite pleased with the relative ease of capturing natural features in this manner, and have great plans for developing future work with this method.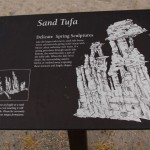 Animation Test:
Link to Autodesk Maya 2015 Demos:

Misc Pano from Shoot, Mojave Lava Tube Cave:
[pano file="pano2/sph1306NG_p01mc/sph1306NG_p01mc.html" width="970″ height="625″]
Misc Pano from Shoot, Mono Lake Tufa w/ Sierra Wave:
[pano file="pano2/sph1306NG_p11ml/sph1306NG_p11ml.html" width="970″ height="625″]
Tags:
Autodesk
,
Environment
,
Faro
,
HDRI
,
Hyperspace Madness
,
Lava Tube Cave
,
Maya 2015
,
Mojave
,
Mono Lake
,
Mudbox
,
Photogrammetry
,
Recap
,
Sierra Wave
,
Tufa
,
Valley of Fire
,
Virtual Reality
,
Windstone Cave
This entry was posted on Tuesday, March 18th, 2014 at 12:00 pm and is filed under
Blog
,
Case Studies
,
Corporate
. You can follow any responses to this entry through the
RSS 2.0
feed. Both comments and pings are currently closed.