PMA 2009 Print

One highly compelling method to reveal the vast level of detail contained in a gigapixel image is to print it in a large format over a very long length. xRez Studio displayed a 40 foot x 5 foot at 300 dpi gigapixel print of Yosemite Valley, dubbed the "AIE Mega-Print" at the Photo Marketing Association 09 conference in Las Vegas. The image shown was sourced from a 150,000 pixel render from Maya and Mental Ray, having been derived from several hundred images shot during the Yosemite Extreme Panoramic Imaging Project in 2008.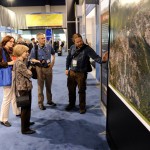 This entry was posted on Sunday, January 3rd, 2010 at 12:58 pm and is filed under
Exhibition
. You can follow any responses to this entry through the
RSS 2.0
feed. You can
leave a response
, or
trackback
from your own site.